Mazel Tov Canaan Dogs
Breeding for health, temperament, conformation and trainability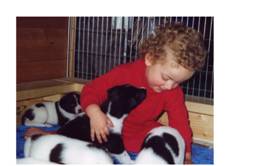 Puppies socialized and raised with children.
Puppies expected July 1, 2012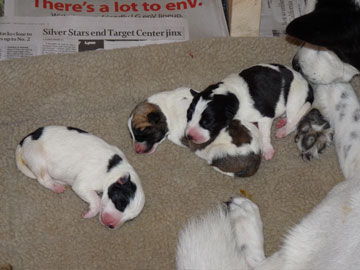 Three puppies born on July 10, 2009.
(Pictured on Day 1)
This was the 2nd litter for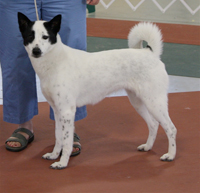 AKC CH/UKC Grand CH Mazel Tov Yomi Bat Barak RN,CGC, CDCA HC ("Yomi")
Award of Merit at 2011 & 2009 CDCA National Specialty
Best Veteran in Sweeps at 2011 CDCA National Specialty
Yomi and her litter sister Lila (pictured below at 15 weeks)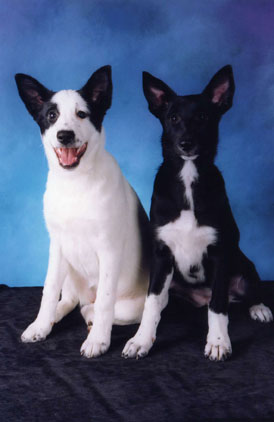 are probably the only Canaan Dogs who descend from a combination of three very important, well-regarded studs of recent history:
WW2001, European Winner 2001, Tel Aviv Winner 2001, Intl. Canaan Specialty BISS 2001, BISS 2002 3 x CAC France, ICDCA Specialty BIS 2003, Intl., Israel, Luxembourg, AKC, UKC CH Barak Me Shaar Hagai ("Barak")
-and-
CH Pleasant Hill Jordan ROMX
-and-
DOTY 1993 CDCA/AKC CH Shvatim Confidence ROMX, VX, CGC, HCX, AHBA-HIC ("Dylan")

This breeding is a linebreeding on our Foundation Bitch,
CH. Pleasant Hill Tovah ROM, CD, RN, CGC, HCX, ICDCA VC, CDCA V ("Tovah") and CKC CH Hadar HaAretz Nothern Snow ("Jake")
That original breeding produced stellar temperaments, fantastic herding instinct, and dogs that shone in conformation and performance arenas.
Tovah and Jake are the grandparents of Yomi, and the great-great grandparents of the sire of our July 2012 litter: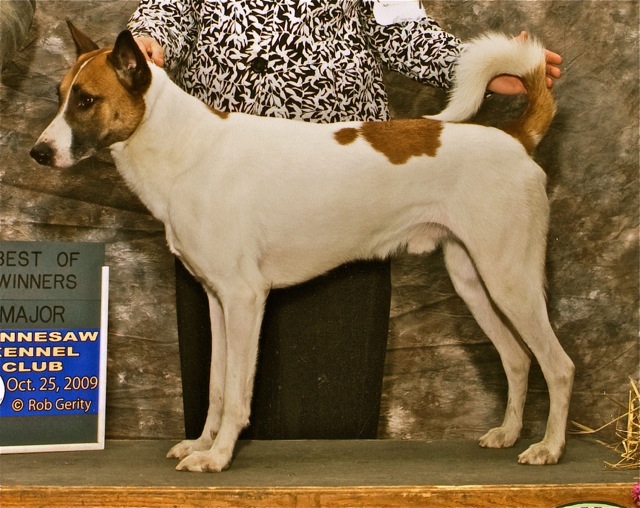 Naturally Noahs at Eastland CGC, CDCA HC
Both Yomi and Noah have OFA Good hips and elbows, CERF certification for eyes, and have tested healthy for thyroid, and Noah has CHIC certification.

Yomi became the second-ever female UKC Grand Champion summer 2008 at the National Specialty Show weekend of the Israel Canaan Dog Club of America. She is also an AKC champion.
Judges have loved her, due to her soundness, movement, structure, and attitude.
(She is also a sweetheart as a family dog.)

Although not shown extensively, Yomi was #7 AKC Canaan Dog for 2004 and #3 UKC Canaan Dog for 2005.
She earned Awards of Merit at the 2011 and 2009 CDCA National Specialties.
She was Champion of Champions at the 2006 ICDCA National Specialty and several times at the weekends of the 2007 and 2008 ICDCA National Specialties.
As a puppy, she was Best of Winners at the 2004 ICDCA National Specialty,
and the judge said she a hard a time picking between her and an adult male for Best In Specialty Show.
The judge said, "When you're judging, you should have a picture in your mind of the perfect dog of the breed. Your puppy was the picture I had in my mind."
Yomi finished her AKC championship at 10 months by going Best of Opposite during the 2004 National Specialty weekend for our AKC Parent Club, the Canaan Dog Club of America (CDCA)--her fourth 4-point major.
She earned a Novice title in Rally Obedience, is a Canine Good Citizen, and has passed her Herding Certificate, with sheep.
I have worked with her in obedience, and plan on competing with her in obedience and Rally in the future.
Noah has 12 points out of 15 toward his AKC championship, including 2 Majors.
Noah is a very sweet and healthy Canaan with herding instinct.
Some puppies are more suited to certain activities, families, and competition than others. We evaluate our pups so we can match each pup with its best home. We assess conformation and we temperament-test them, following the Monks of New Skete method.
Contact: Cathi Oskow
Email: CanaanQat@aol.com
To learn more about the breed, click here for informative links!